Free UK shipping on orders £150+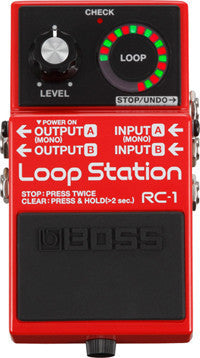 Hover on image to zoom
Can't make up your mind? Need some Advice?

Please feel free to email dominic@kendallguitars.co.uk for enquiries and advice relating to our products or services.

Quality assurance

Every guitar we ship is fully checked over and set up before being dispatched.
Boss RC-1 Looper Pedal
Not in stock - available for pre order
The Boss RC-1 Loop Station. The RC-1 is a straightforward looper that is easy to operate, ideal for beginners, the RC-1 enables you to record, playback, overdub, and undo or redo your redorded loops.
On the top panel, there is a new and innovative loop indicator, which consists of a 24-segment LED laid out in a circular pattern. You can quickly and easily determine the current status of the Rec/Overdub/Play modes. With a maximum 12 minutes of stereo recording time, the RC-1 is capable of capturing any extended performance that you can create or imagine! The stereo in/out jacks can be used with stereo effects and amplifiers. Additionally, they allow you to connect stereo instruments, such as synthesizers. Other convenient features include battery and AC power, as well as flexible external footswitching capabilities. The RC-1 is an especially great partner to start enjoying looping!
With Looping pedals we would always recommend using the correct power supply. (not included)
Here at Kendall Guitars we thoroughly check over and setup each Guitar before we dispatch the Guitar to you.
Delivery times for UK deliveries we would normally expect a 2 - 3 day delivery timescale. UK Orders over £150 are Free Shipping.
European deliveries we use Parcel Force and DPD we would expect a 4 - 10 day delivery timescale.
Worldwide shipping can take longer due to Customs. Where appropriate we will notify you of the tracking information.
Kendall Guitars Online Shop prices are displayed exclusive of VAT, only goods that are shipped to the UK will have VAT applied at the checkout.
Here at Kendall Guitars we check our online pricing on a regular basis, we are happy to price match a product if you have seen a genuine price from an other authorised retailer.
If the item you are looking to purchase is not in stock, you can still pre order the item, we will then notify you when the item is available for and ready shipping. delivery times will vary depending on product availability.
Returns, if for some reason you are not happy with your purchase, please email me at dominic@kendallguitars.co.uk.