Free UK shipping on orders £150+
Daddario EXL170 Nickel Wound 4 String Bass Guitar Strings 45 100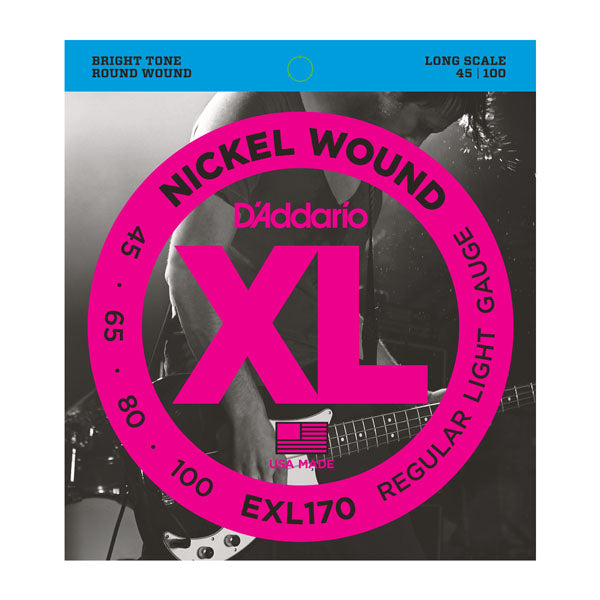 Hover on image to zoom
Can't make up your mind? Need some Advice?

Please feel free to email dominic@kendallguitars.co.uk for enquiries and advice relating to our products or services.

Quality assurance

Every guitar we ship is fully checked over and set up before being dispatched.
Daddario EXL170 Nickel Wound 4 String Bass Guitar Strings 45 100
Not in stock - available for pre order
EXL170, D'Addario's best-selling bass set and the standard for most electric basses, offers the ideal combination of bright, booming tone and comfortable feel. The most versatile and universally appealing set for all playing styles. Fits long scale basses with a string scale length of up to 36 1/4 inches. 
D'Addario's best selling bass guitar set
Round wound with nickelplated steel for a distinctive bright tone with clear fundamentals
Fits long scale basses with a string scale length of up to 36 1/4 inches
Made in the U.S.A. for the highest quality and performance
String Gauges: Wound .045, .065, .080, .100
Environmentally friendly, corrosion resistant packaging for strings that are always fresh
Here at Kendall Guitars we thoroughly check over and setup each Guitar before we dispatch the Guitar to you.
Delivery times for UK deliveries we would normally expect a 2 - 3 day delivery timescale. UK Orders over £150 are Free Shipping.
European deliveries we use Parcel Force and DPD we would expect a 4 - 10 day delivery timescale.
Worldwide shipping can take longer due to Customs. Where appropriate we will notify you of the tracking information.
Kendall Guitars Online Shop prices are displayed exclusive of VAT, only goods that are shipped to the UK will have VAT applied at the checkout.
Here at Kendall Guitars we check our online pricing on a regular basis, we are happy to price match a product if you have seen a genuine price from an other authorised retailer.
If the item you are looking to purchase is not in stock, you can still pre order the item, we will then notify you when the item is available for and ready shipping. delivery times will vary depending on product availability.
Returns, if for some reason you are not happy with your purchase, please email me at dominic@kendallguitars.co.uk.