Free UK shipping on orders £150+
Planet Waves American Stage 15ft Guitar Cable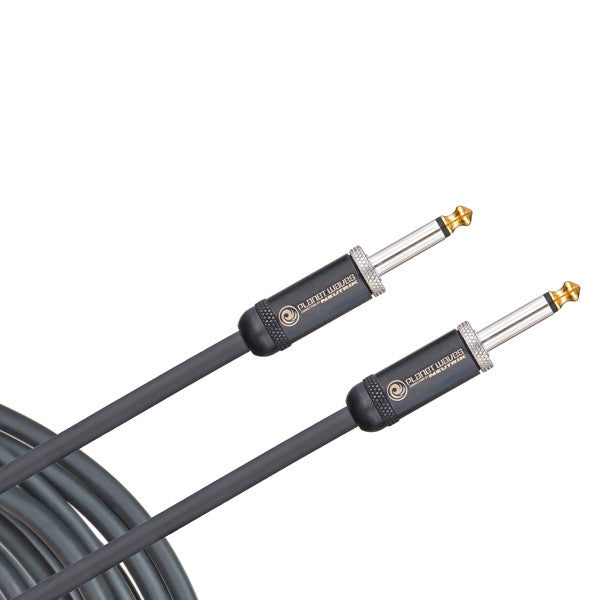 Hover on image to zoom
Can't make up your mind? Need some Advice?

Please feel free to email dominic@kendallguitars.co.uk for enquiries and advice relating to our products or services.

Quality assurance

Every guitar we ship is fully checked over and set up before being dispatched.
Planet Waves American Stage 15ft Guitar Cable
D'Addario's patented Geo-Tip™:
Gives you the most secure connection possible. Ordinary cables tips don't allow for varying jack tolerances. But the D'Addario-designed patented Geo-Tip™ works with any jack to give you the most secure, trustworthy connection possible.
Optimized capacitance:
For purer signal and uncolored tone, we use a 22AWG oxygen-free copper conductor, USA-made audiophile quality wire tuned for optimized capacitance (28pF/ft), then shield it with 95% tinned copper braiding to eliminate handling noise and reject interference. Manufactured with only the finest materials and unmatched engineering methods, American Stage delivers a professional grade cable. The result is pure, natural tone that you can count on.
Aerospace crimp connector:
For our mic cables, this state of the art technology ensures you'll have outstanding performance and unmatched durability, gig after gig.
Here at Kendall Guitars we thoroughly check over and setup each Guitar before we dispatch the Guitar to you.
Delivery times for UK deliveries we would normally expect a 2 - 3 day delivery timescale. UK Orders over £150 are Free Shipping.
European deliveries we use Parcel Force and DPD we would expect a 4 - 10 day delivery timescale.
Worldwide shipping can take longer due to Customs. Where appropriate we will notify you of the tracking information.
Kendall Guitars Online Shop prices are displayed exclusive of VAT, only goods that are shipped to the UK will have VAT applied at the checkout.
Here at Kendall Guitars we check our online pricing on a regular basis, we are happy to price match a product if you have seen a genuine price from an other authorised retailer.
If the item you are looking to purchase is not in stock, you can still pre order the item, we will then notify you when the item is available for and ready shipping. delivery times will vary depending on product availability.
Returns, if for some reason you are not happy with your purchase, please email me at dominic@kendallguitars.co.uk.