Free UK shipping on orders £150+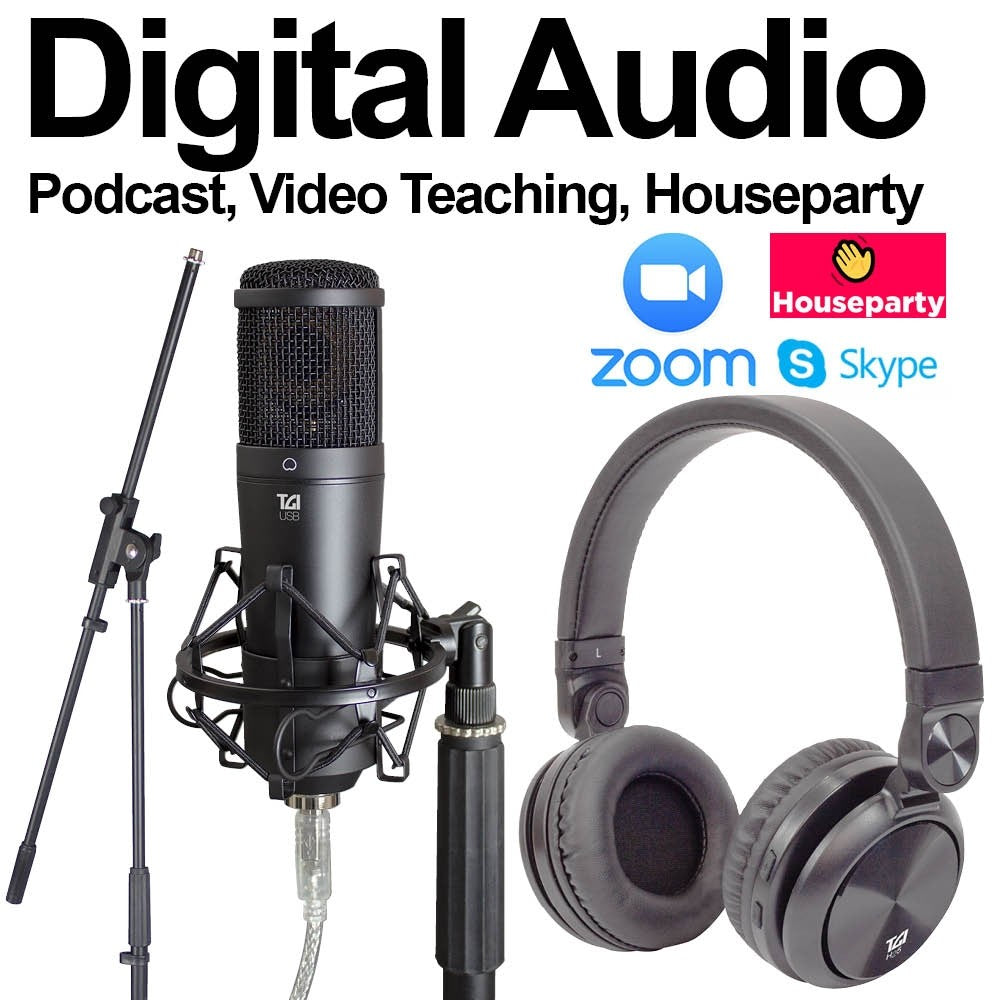 Hover on image to zoom
Can't make up your mind? Need some Advice?

Please feel free to email dominic@kendallguitars.co.uk for enquiries and advice relating to our products or services.

Quality assurance

Every guitar we ship is fully checked over and set up before being dispatched.
Do you want to get setup for Online Music Lessons? Are you ready to start your own podcasts or YouTube videocasts? Perhaps you want to take your home recording to a new level.. or maybe you want to improve the quality of your video calls for Zoom, Skype, Facetime or Houseparty.
The Digital Audio bundle from TGI is ideal for all of the above, offering a great USB powered Microphone, excellent full enclosure headphones and an all important mic stand.
Each bundle contains:
TGI USB Microphone -
This excellent condensor microphone will connect directly and simply to your computer allowing high quality audio to be recorded or streamed instantly (using any appropriate software, which is freely available across the internet). Complete with a shock mount, mic holder and all necessary cables, you'll be amazed what a difference a really great mic makes to your recordings or broadcasts.                                                                                                                
TGI Headphones - 
These lightweight yet strong headphones are ideal for all manner of applications. Whether plugged into your phone for listening to music or used for monitoring your latest composition or podcast release, you'll find the comfortable earpads and headband a real plus. Supplied with a 3.5mm and 6.35mm jack connector. 


Microphone Boom Stand - 
With tripod legs and fully adjustable, you can use this Mic Boom Stand to position your TGI USB mic wherever it needs to be and at whatever angle necessary. Plus it'll perform just as well on stage too!
Here at Kendall Guitars we thoroughly check over and setup each Guitar before we dispatch the Guitar to you.
Delivery times for UK deliveries we would normally expect a 2 - 3 day delivery timescale. UK Orders over £150 are Free Shipping.
European deliveries we use Parcel Force and DPD we would expect a 4 - 10 day delivery timescale.
Worldwide shipping can take longer due to Customs. Where appropriate we will notify you of the tracking information.
Kendall Guitars Online Shop prices are displayed exclusive of VAT, only goods that are shipped to the UK will have VAT applied at the checkout.
Here at Kendall Guitars we check our online pricing on a regular basis, we are happy to price match a product if you have seen a genuine price from an other authorised retailer.
If the item you are looking to purchase is not in stock, you can still pre order the item, we will then notify you when the item is available for and ready shipping. delivery times will vary depending on product availability.
Returns, if for some reason you are not happy with your purchase, please email me at dominic@kendallguitars.co.uk.