Free UK shipping on orders £150+
Vintage VE800MH Electro Acoustic Parlour Guitar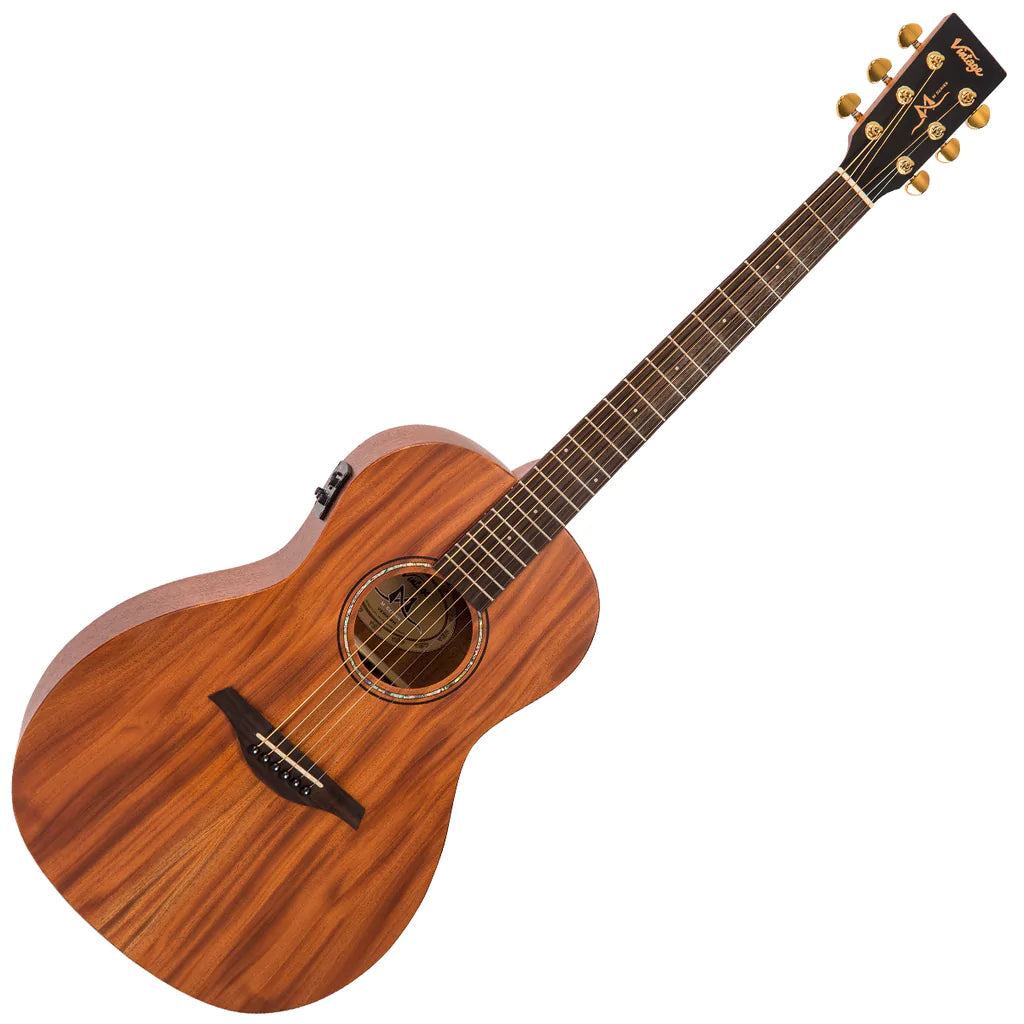 Hover on image to zoom
Can't make up your mind? Need some Advice?

Please feel free to email dominic@kendallguitars.co.uk for enquiries and advice relating to our products or services.

Quality assurance

Every guitar we ship is fully checked over and set up before being dispatched.
Vintage VE800MH Electro Acoustic Parlour Guitar
Vintage VE800MH Parlour Guitar looks fantastic with its gorgeous clear satin finish highlighting the natural open-grain and deep, reddish brown all-mahogany build, the Vintage Mahogany Series electro-acoustic Parlour guitar is stylish to say the least.
Renowned for its stability, sound velocity and immense tone, mahogany has always been one of the most popular tonewoods for backs, sides, necks and, with an added high-grade mahogany soundboard offset with an intricate abalone rosette, the popular Vintage Mahogany Series electro-acoustic Parlour guitar, delivers a very impressive size defying, balanced output from its compact parlour sized body.
Fingerpicking or strumming, this very much admired electro-acoustic parlour is no exception to the rule, the separation and balance across the strings, with impressive volume and projection is unprecedented within this price range.

With individual Volume, Bass, Middle and Treble EQ controls, the Vintage preamp captures and delivers all frequencies uncoloured, to external sources such as mixing desks, amps, monitors or PA systems. There's also a very handy built-in tuner and battery check indicator.
Fitted with high quality USA made strings as standard, the Vintage Mahogany Series Parlour electro-acoustic guitar, performs and sounds as good as it looks.
Here at Kendall Guitars we thoroughly check over and setup each Guitar before we dispatch the Guitar to you.
Delivery times for UK deliveries we would normally expect a 2 - 3 day delivery timescale. UK Orders over £150 are Free Shipping.
European deliveries we use Parcel Force and DPD we would expect a 4 - 10 day delivery timescale.
Worldwide shipping can take longer due to Customs. Where appropriate we will notify you of the tracking information.
Kendall Guitars Online Shop prices are displayed exclusive of VAT, only goods that are shipped to the UK will have VAT applied at the checkout.
Here at Kendall Guitars we check our online pricing on a regular basis, we are happy to price match a product if you have seen a genuine price from an other authorised retailer.
If the item you are looking to purchase is not in stock, you can still pre order the item, we will then notify you when the item is available for and ready shipping. delivery times will vary depending on product availability.
Returns, if for some reason you are not happy with your purchase, please email me at dominic@kendallguitars.co.uk.